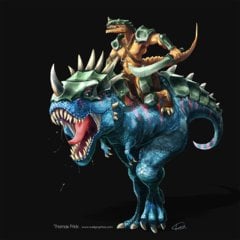 Thomas Frick
Art Director | Hytale - 2D/3D Artist
Strasbourg, France
Summary
I'm a 2D / 3D game artist from France. Currently Art Director for Hytale at Hypixel studios. I illustrated many unofficial Minecraft books - Gamerknight999/ Frigiel et Fluffy.
I graduated at Strasbourg university and obtained a Master degree in Art and Multimedia in September 2011, I studied drawing, painting, sculpting and also 3D modeling. Game jam and travel addict, I also love game-design a lot.
I experimented Comics Strips, Role Playing Games, book illustrations and webdesign.
Skills
Concept Art
Environment Design
Illustration
3D Modeling
Texturing
Character Design
Software proficiency
Productions
Video Game

Craftstudio

Year

2012

Role

Artist

Company

Sparklinlabs

Video Game

Dungeon Rushers

Year

2017

Role

Art Director

Company

Goblinz Studio